Phil Fernandez Band Leader, Drummer, Arranger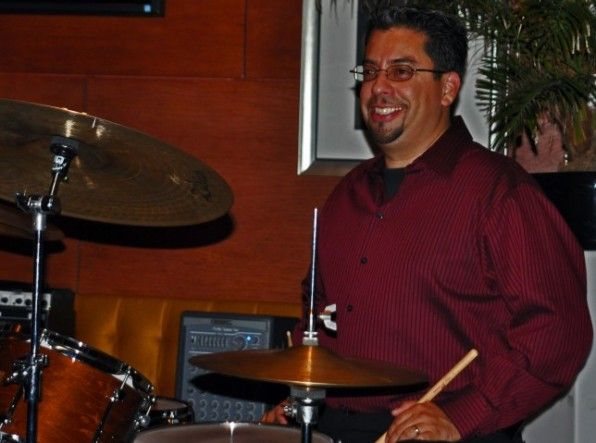 Phil Fernandez is a Chicago drummer that started his own musical project in 2009 together with Damian Espinoza and Bob Lovecchio - Phil Fernandez Trio. Phil has an affinity for jazz standards performed in styles that were popular in the 1930's, 1940's and 1950's. Phil Fernandez Trio presents a combination of those Jazz styles with Rock and Latin, three of Phil's favorite genres. This blend can especially be heard on the track "Policy of Truth" from Phil's latest CD "The pH Factor".
Phil Fernandez was born into a musical family. His father was a percussionist, singer, arranger and song-writer. Phil started to play and study drums when he was four years old. He started his first band, a KISS cover band, at age 10. This band was the first of many to come, which would also lead to Phil exploring several styles including punk, new wave, and ska. Eventually he settled into heavy metal. Phil was also introduced to the music of Santana in high school, helping him hone his percussion skills.
Through all of this musical exploration, Phil always had an interest in jazz. In college, Phil joined several jazz bands with the jazz students on campus and took jazz classes. In his mid-twenties, he joined another jazz band and began playing gigs on the jazz scene. Since then Phil has had the honor and pleasure of playing with and studying under many talented musicians.
These experiences have cultivated Phil's newest project, Phil Fernandez Trio, featuring Damian Espinosa on piano and Bob Lovecchio on bass, with special guest Keri Johnsrud. 
Damian Espinoza - Pianist, Composer & Arranger
Damian Espinosa is one of Chicago's premier pianist whose style combines elements of jazz, classical, rock and Latin. He has played piano in diverse musical settings as both a jazz leader and a sideman, as a solo pianist, accompanist, for stage productions, operas, Second City, and even for a silent film.
Bob Lovecchio - Basist & Arranger
Bob Lovecchio has been present on the Chicago music scene since 1998. He is an oustanding versatile bass player and performs in the following musical styles: Jazz, Salsa, Latin Jazz, Funk, Pop and Blue Grass.